John Lefelhocz was born in Pittsburgh, Pennsylvania in 1967 and grew up in both Richmond, Virginia and Cleveland, Ohio. John studied mixed media at Ohio University. After college, he has owned and operated a bicycle shop in Athens, Ohio with his wife while establishing himself as an artist.

John gained international recognition as a quilt artist in the late 1990's and has since shown works nationally and internationally in this medium. John also creates works in many other media including sculpture, painting, cartography, and the graphic arts.
The Juxtapassion Team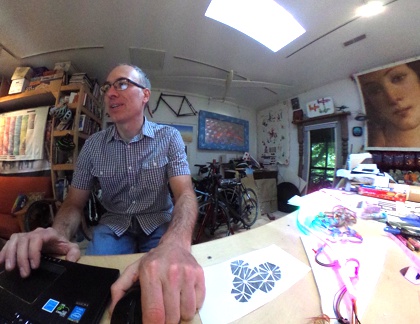 photo M. Tompson
John Lefelhocz
- Artist / Designer
John is well known for his conceptual works in the textile arts, specifically quilts. His art has gained increased recognition since the late 1990s. In addition to conceptual works, John works in the graphic media, including web, signage, branding, and retail design.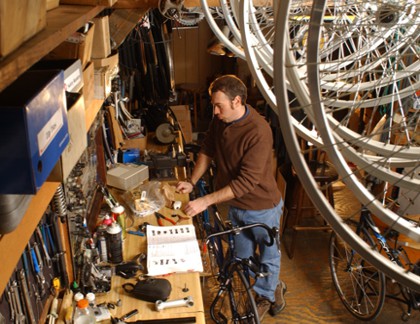 photo T. Creamer
John Lefelhocz
- Entrepreneur
In addition to art sales and commissions as well as graphic design work, John with his wife, has owned and operated Cycle Path Bicycles of Athens, Ohio for over 30 years. Many examples of John's creative juxtapassion can be found at the Bike Shop.
...
John Lefelhocz
- Cycling Enthsiast
John, aka "Hammertoe" is a founding member of "Team Athens Cycling and has been an avid cyclist since the early 1980's. He has accumulated many State titles in several bicycle disciplines. John often rides his bike when brainstorming for new ideas.